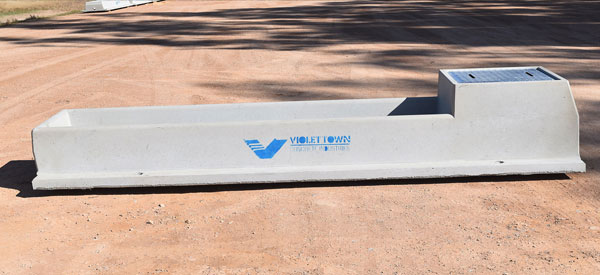 Violet Town Concrete Industries was established in 1984. Since then we have forged a name for ourselves as the leaders in rural precast concrete, producing the highest quality products on the market for over 35 years.
Servicing a wide market, we have built a name for ourselves in the industry as a manufacturer of the highest quality concrete troughs and we are proud of our reputation. Violet Town Concrete has an extensive list of rural re-sellers across the country. We manufacture a large range of concrete stock troughs in a variety of sizes, both rectangle and round. Violet Town Concrete has developed the stock proof water trough system which completely protects the float valves and prevents any damage often caused by livestock.
With a proven track record, you need to look no further for all your rural precast solutions. Due to growing demand nationwide for our products we have decided to start manufacturing in Roma to offer our products at a more reasonable price for the Queensland market. We will be employing locally and supporting local communities.
Violet Town Concrete also manufactures a range of fully engineered cattle grids, with ratings from 12 tonne per axle to 18 tonne per axle. Designed for easy installation and long term durability, they are available is sizes 3m to 6m.
Violet Town Concrete is also renowned for the manufacture and expert installation of rural and shire kit bridges for over 20 years. The precast concrete decking panels enable fast and easy installation on site.